E-commerce will one day be big in South Africa. . I left the LeaderEx conference which had a focussed day on ecommerce feeling like that day will be sooner. An optimistic end driven by five key insights from the speakers, chatting to delegates and to the vendors (thanks for the swag). These insights are that of a small business owner. I am 'so what' and 'what next' as I participate.  
1. Digital Invisibles  Will Become Visible
The words "digital invisibles" was used once in a session but it made immediate sense. A digital invisible is a person who wants to but is unable to transact online. The data speakers provided included that
E-commerce is less than 5% of total retail (Some speakers said 3% and other 4%)
One in eight people or 12,5% of South African have a bank card that is capable of transacting online.
The numbers are not surprising given the context of inequality in South Africa. In the future more South Africans will transact online. The reasons for this increase include the increased use of smartphones, social selling, competition in the banking sector amongst a range of factors.
Potentially the market that can be served via the web and/or smartphone apps will grow.
Across panels speakers suggested strategies for smaller customers. There are two strategies:
Expand reach through smartphones and social media selling – Speakers argued that it is crucial to meet customers where they are and offer ways for them to interact with your brand. This means having a presence on smartphones through apps and chatbots. Not only that but selling directly on social media.
Increase the value of basket – Why search for a new market when the current market can spend more online? But, in a situation where everyone is under financial stress is there space for increasing value of basket at checkout? Important questions for online stores to answer. The answer provided is to be improve the customer experience and to optimise the sales funnel.
2. Social Shopping is a bigger thing than I thought
People buy stuff on social media. There is nothing new about this. Speaker after speaker mentioned this point. I listened more carefully and they were saying that having a presence in social media – and where possible allowing users to checkout – is an ideal situation. I wondered how it would be possible for a small company to run online store, chatbots and social media sites. The answer provided was to create processes that can be automated and / or to develop sites that work across platforms.
Two take-aways on this theme:
Community Commerce. This is when people get together online to group buy or share prices. One strategy is to find ways to find these communities and engage with them.
Reviews matter. Some companies are aggregating reviews across many data points through a process called "syndication". This matters because reviews are an important social signal for purchasing.
The key bit of advice provided was to systematise digital marketing processes.
Convenience Shopping is not Destination Shopping
No I am not having a dof moment repeating the obvious.
Checkers Sixty60 was cited as a success. There was some dispute over profitability but the delivery service was heralded. And every success story needs a catchy buzzword – convenience shopping. The idea is what it says – shopping for goods that are do not require much thought as efficiently as possible.
Convenience shopping is the opposite of destination shopping. I searched for the meaning of 'destination shopping'. The very large search engine told me the following: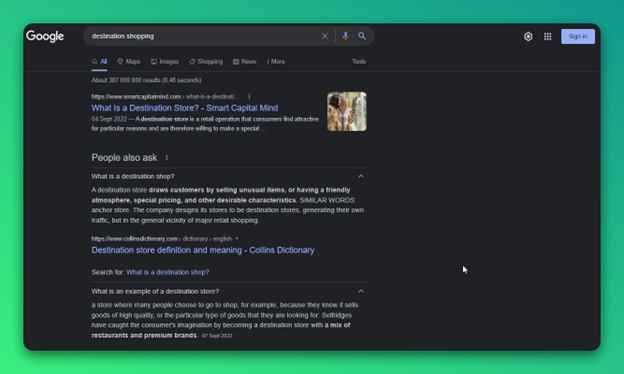 You cannot blame me for searching because there are so many buzzwords I would not want to confuse my social shopping, convenience shopping and destination shopping. It was all confusing when experts used the terms in more and more ways. When I think destination shopping as going to a shop for something specific from a specific store.
3. Single View of the Customer Is Foundational
More jargon – first party data and single view of the customer. Here is the summary – when we create and edit profiles and use online services, companies are able to create a very reliable profile of customers. The advice to small business is simple to gather data provided by users (called first party data) and use that information to create a segmented list of subscribers.
One interesting take from Incubeta was to classify customers on a matrix:
Propensity to engage – Are customers engaging with the business? Opening newsletters, liking and commenting.
Propensity to buy – Are using buying the product?
I took some notes on this and turned it into a graphic below. Go check out Incubeta and their useful set of insights.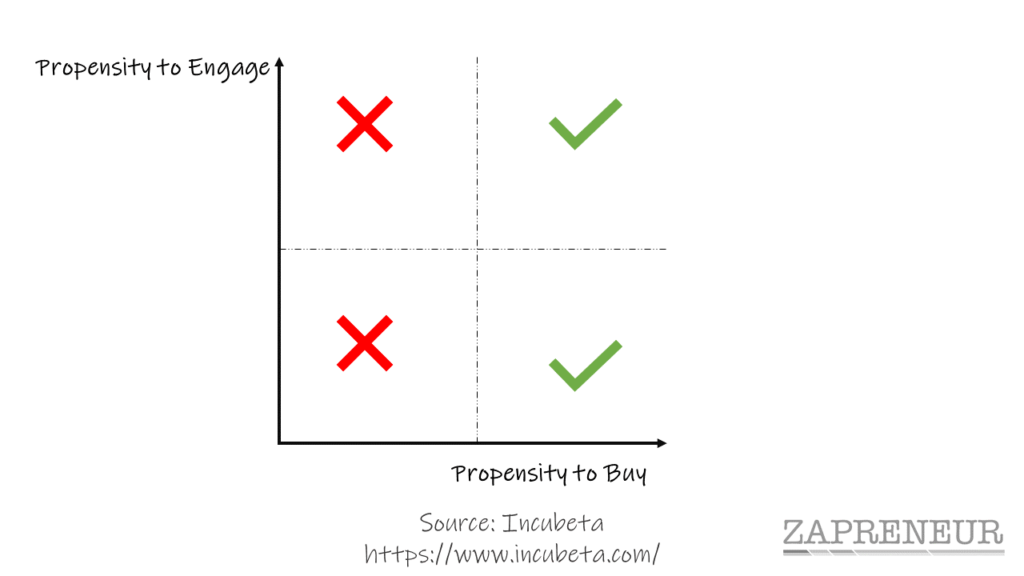 This sound simple enough but they have some data ninjas working on this. Pulling data from this source and that source and aggregating it into four segments. A less data intensive method could work for small business.
Which raises issues around privacy. How much information are we really willing to provide to merchants to retarget us? This was a question that was raised consistently. The advice was to comply with the laws. I feel like this was an underexplored area in the presentations.
4. Small business may benefit from big platforms competing
The big dude (aka platform) is Amazon. Literally every session I went to mentioned that Amazon is coming. Of course the world biggest store opening up for business is big news. The references were understandable. Yet I found it disappointing that most speakers spoke of it in a very general and uncertain way. One insights was a comparison to Amazon entering new countries and that data showed that Amazon entry grows the market and everyone benefits. I have my doubts about this benevolent cycle in South Africa which already has large players. Two strategies were emphasised for small business:
Platform selling: One interesting feature of platforms like Take-A-Lot and Amazon is that they create marketplaces for smaller businesses. I
Using free platforms: In such a context the possibility of growing small businesses on these platforms may exist. To illustrate, Gumtree profiled an entrepreneur making coaches who started small, survived the pandemic and today is expanding his business. Literally through clever usage of freemium platforms like Gumtree, Wix and Shopify.
After sunset the tribes emerged plotting for Black Friday. On one side was the Insaka crowd and on the other side was the Bid or Buy crowd. It was interesting to observe both the cooperation and competition between the tribes. Not to be outdone there was a drop shipping tutorial.
But the after sunset highlight was a session on the Metaverse. The panellist spoke knowledgably and accessibly about what the Metaverse is, what the opportunities for investment are and they tackled ethical questions. And I got a copy of the Daily Maverick Sunday Newspaper (what a treat to read a real newspaper and get away from the screen).
5. Pay for Your Swag Later 
I joke that I only go to conferences for swag. But what I really enjoy is speaking to exhibitors. At this conference, there were three services providing buy now and pay later options. Each of them are interesting and had convincing pitch. It is exciting to see which of these companies gains market share and which does not. This form of payments are interest free. Pay later companies make money by paying merchants less than the advertised price.
My favourite swag are the little plants. I wonder if Basil will grow? And I am keen to see how the succulent called Spekboom grows? Shout out to Incubeta and University of Stellenbosch. A highlight was stopping by the Xneelo desk. Good to meet people in the technical team that help with all the DNS settings.
Coffee. Truth. The coffee was better than and the excellent slides in the presentation, but the presentation was excellent as well. Truth. is a fantastic brand, and much can be learned about diversifying in one area.
(And I got to make a staged photo of swag like a proper influencer 😂)
Not nice. Exhibitors pack panels with own people
Overall the day was interesting. But I have one complaint. Some panels were packed with speakers from the same company. You guess it – the company sponsoring the session. It is a curiously South African thing. Literally it is the opposite of engaging. A diversity of speakers on some panels would have been nice. Also I would be more likely to stay in an event.
Future
Conferences like LeaderEx are primarily marketing events for big exhibitors. The narrative is the same. Yet, I left feeling that there was more than just marketing speak. Online businesses in South Africa are more likely to grow. As everyone reminded us if there was one good thing from the pandemic, it was that South Africa took a leap forward in terms of online businesses.